Seattle can be your home, or it can be your travel destination. Visit SEATTLE NOW! If you have never been to Seattle, it is a cozy and dreamy urban city that is surrounded by an awe-struck scenery embraced by nature. Make Seattle your destination, there is an adventure that awaits!
Entrepreneur brings the "Uber of HVAC" to Washington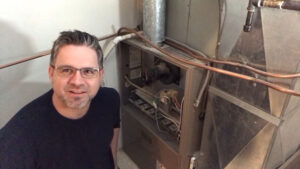 Seattle area residents are often on the lookout for good contractors. With our colder climate, one common type of contractors that we search for quite often is heating and cooling companies.
I recently had a great experience with a local company when purchasing a new furnace, and we wanted to pass along that good experience to you introduce the contact we found.
We invited the owner Steve Gadsby to chat about his furnace repair business and speak about the company himself.
From Steve:
"Thank you for reaching out to me and giving me the opportunity to talk about FurnaceUSA with your group. To tell you a bit more about our company… we do things a little bit differently here at FurnaceUSA – we focus entirely on the customer experience by selling HVAC products to homeowners and pairing amazing local contractors to install the equipment.
Ultimately, the customer experience buck stops with us. If three years down the road your equipment breaks down you call us directly.
We also sell the equipment differently than almost anybody else. We almost exclusively do heating services plans. What a heating service plan is – is the homeowner never having to worry about paying for the upfront cost the equipment, the homeowner also does not need to pay for the replacement of the equipment if it catastrophically breaks and you don't need to pay for annual maintenance.
All the homeowner needs to pay for is the monthly fee which covers everything, it is primarily the we take care of everything for you plan."
I asked Steve if dealing with jobs in the Seattle area was any different than doing jobs in different parts of the country.
Steve's reply "Absolutely, I am also from the Pacific Northwest area, and our climate is different than much of the country. For instance, anywhere along the eastern seaboard, humidity plays a significant factor when customers are choosing their heating or cooling needs. As an example, homeowners in humid states need to significantly under-size their air-conditioners. Otherwise, the air-conditioners do not run long enough to remove the humidity out of the air, so homeowners end up with a cold but damp house.
In the Pacific Northwest, the only thing that you care about when you're putting in the air conditioner is for your home to be as cold as fast as possible, so we usually size equipment to maximize the house, optimize whatever furnace it's getting added to and maximize the ducting system for the home."
Interesting, so you say that you were from the Pacific Northwest also, are you from Seattle?
"Although I've been to Seattle many times, I am from the Vancouver, BC, Canada area. I owned an HVAC company in Canada and then decided to start an HVAC company in the United States."
Any other additional info that you think Seattle area residents could benefit from regarding HVAC?
"The only other thing that I think is important for people to think about with their heating and cooling equipment in the Seattle area is to make sure you change your filters a few times a year. It's not just to collect dust, a plugged filter also radically increases your utility bill and can go as far as making your entire unit break. A plugged filter is one of the most common causes for broken air conditioning systems, broken motors and a variety of other issues, and it's such a quick and straightforward thing that homeowners can do themselves.
Further to that homeowners can also get on to a heating services plan which then we ultimately are responsible for all filtration changes."
Thank you to Steve Gadsby of FurnaceUSA. You can reach out to them by going to their website at www.FurnaceUSA.com